Turning the Page on Summer: A Flavorful Farewell
When the summer sun is at its peak and temperatures soar, a refreshing meal or a silly-little-drink can be a true relief from the heat. Introducing two summer recipes: The Sunset Sparkler & Sunny Somen Salad. Made in the spirit of celebrating the essence of summer, bringing together vibrant colors, textures, and flavors in a harmonious dance on your taste buds.
Raise a glass to summer with a mocktail
What's a proper bumbai to summer without a refreshing drink in hand? This Cannamocktail adds an extra layer of relaxation to your end-of-summer festivities. We get it, change can be tough (even though we get summer all year round)! Let this drink tantalizes your taste buds while offering a soothing sensation (thanks to the metabolite named 11-Hydroxy-THC) to ease you into the changing season.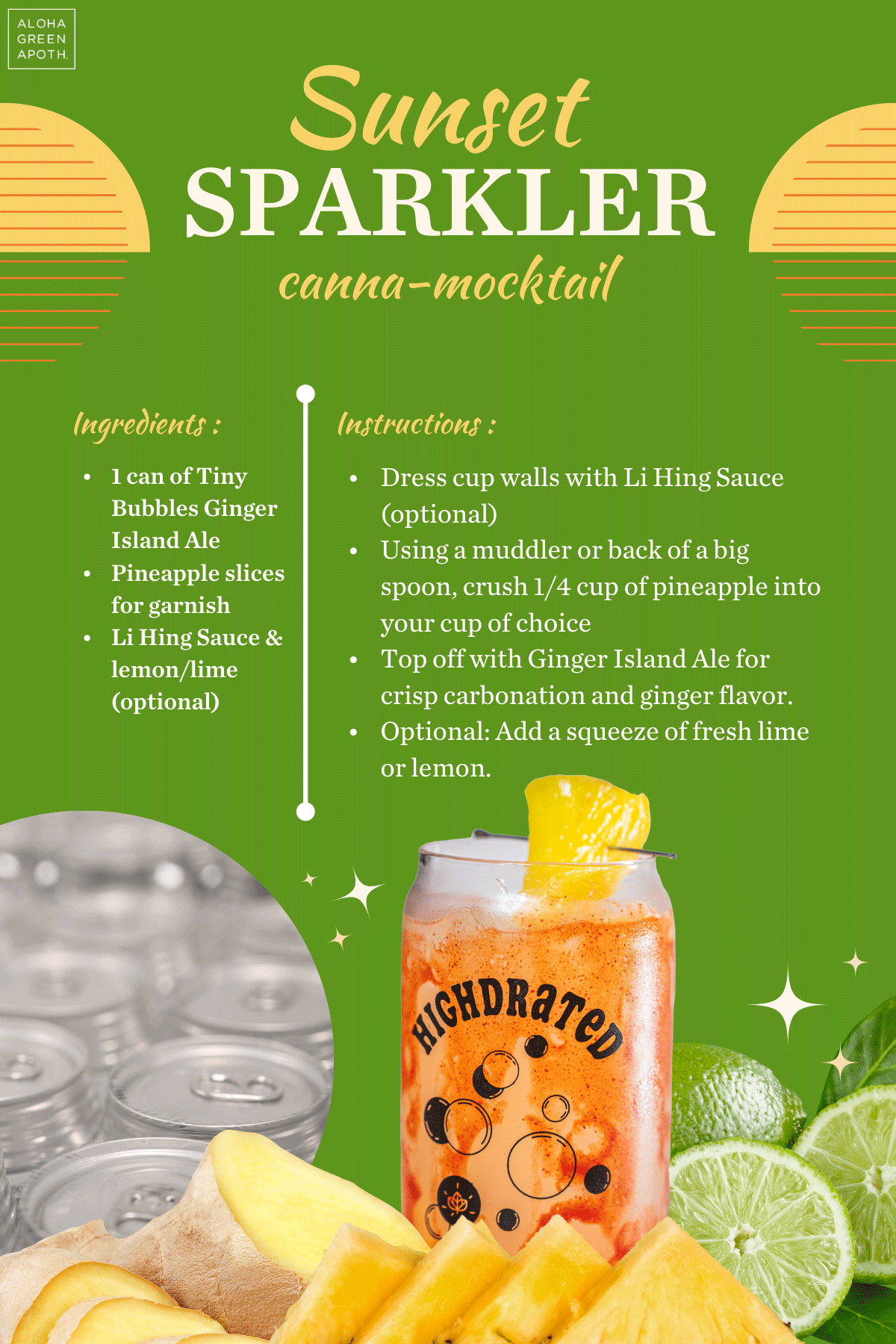 P.S: Did you know Hawai'i has a unique profile for our standard aluminum can size? That's right, our can lids are typically smaller than average which is rumored to be impacted by economic, social, and logistical factors for the islands. We are always on the search for our re-sealable lids but wanted to give some clarity as to why they're not around all the time!
Sunny Infused Somen
Imagine a bed of delicate somen noodles, perfectly cooked to tender perfection. Topped with your favorite colorful veggies, fish cake, tamago, and more! This summer salad recipe is simple and effective, were always on the look out for recipes with minimal-cooking required.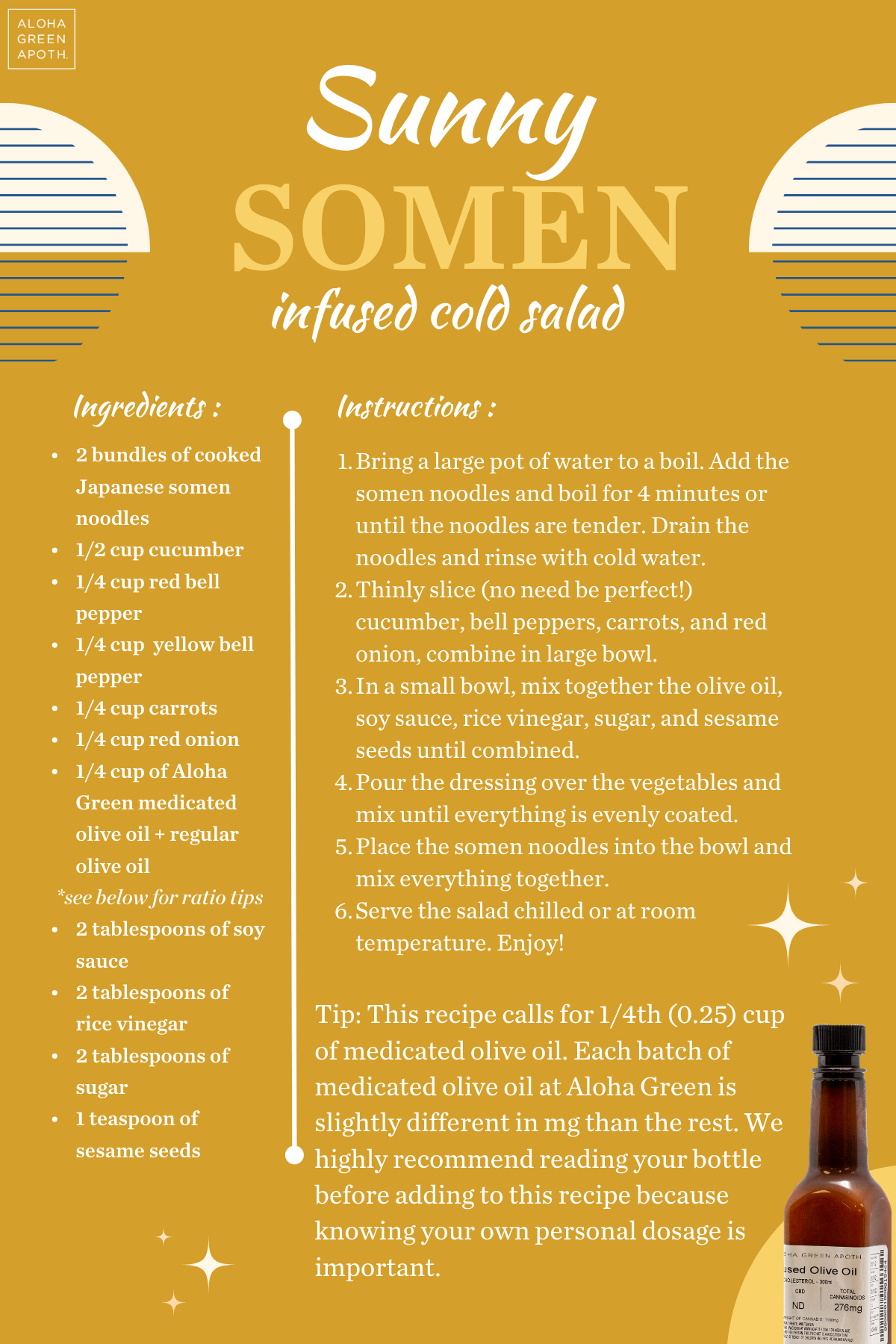 Tip for managing dosage: We will give an example to help illustrate one way to stay on top of dosage while cooking with cannabis oils.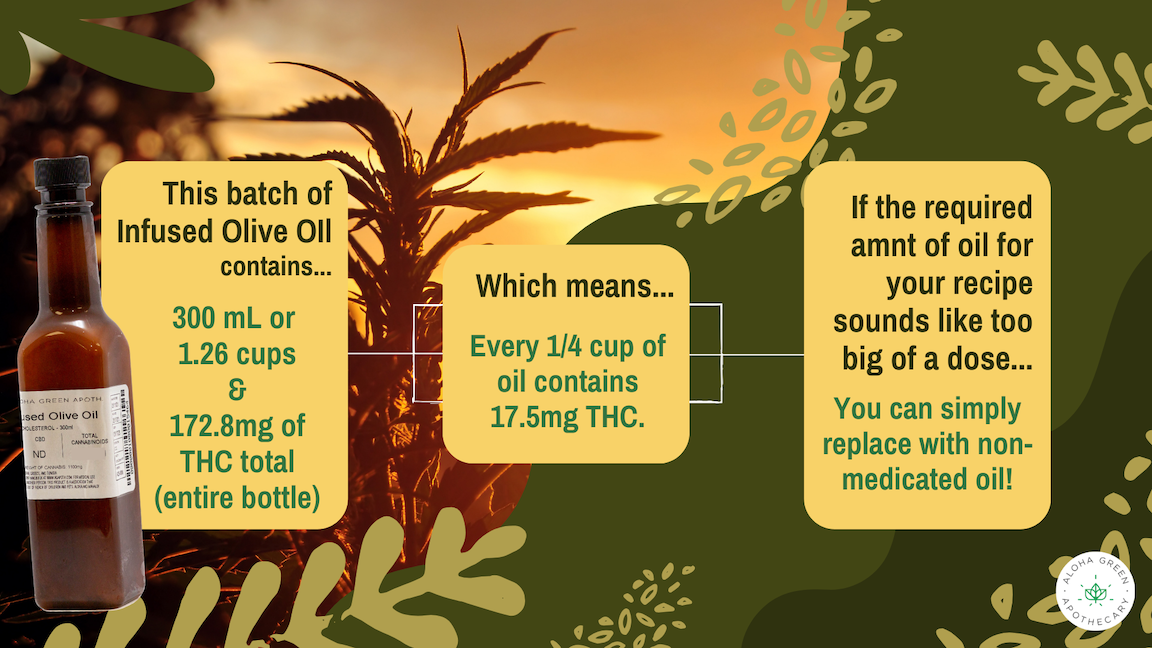 Because the Sunny Somen recipe is 2 servings, you can calculate that each serving would have about 17.5mg of THC which is still very high. In that case, we recommend blending your medicated olive oil with regular olive oil to get the ratio that you are comfortable with. If you are not used to ingesting THC, it's best to start as low as 1mg per serving.
Enjoy these summer recipe ideas and don't be afraid to make your own! We hope you find the time to indulge in a treat-yourself moment and keep finding new ways to elevate your everyday recipes with our medicated cooking oils, tinctures, and RSO syringes.
Follow us on IG @alohagreenhi or subscribe to our weekly newsletter to stay in touch as we continue to share our favorite elevated local-inspired recipes. Until then, keep the spirit of summer alive with each bite!