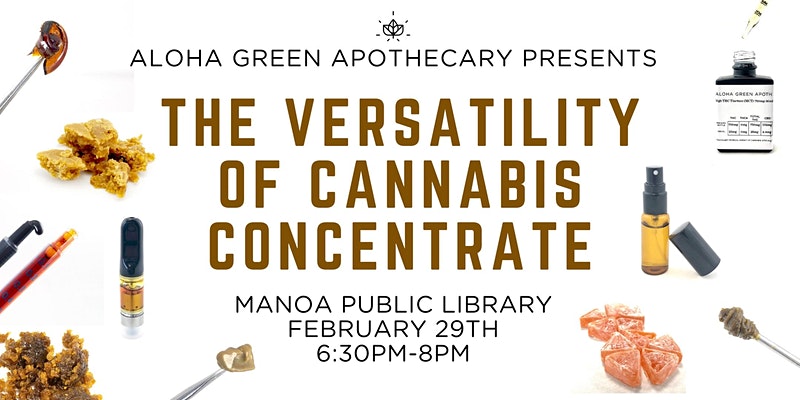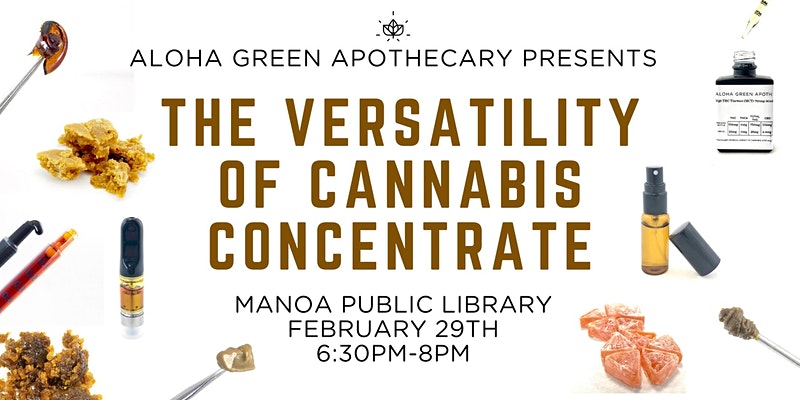 In response to our patient's requests, we are proud to announce our "The Versatility of Cannabis Concentrate" presentation.
We will start with a basic overview of our different cannabis concentrates, what they are how they are made, how to consume them, and end with their medicinal applications.
This seminar is free, open to the public and anyone looking to learn more about medical cannabis.
Seats are limited. Please be sure to cancel your tickets if you cannot make the event in order to open up seats for the other patients
FREE monthly series presented by Aloha Green Apothecary, the Cannabis 101/201 forums are held around Oahu and is open to the public (you do not need a 329 card to attend). Aloha Green Apothecary is Oahu's first medical cannabis dispensary. For more information visit www.agapoth.com or call us at 808-369-2888
Date And Time
Sat, February 29, 2020
6:30 PM – 8:00 PM HST
Location
Manoa Public Library – Meeting Room
2716 Woodlawn Drive
Honolulu, HI 96822
View Map