Aloha Green is excited to welcome Auntie Aloha back home to Hawai'i!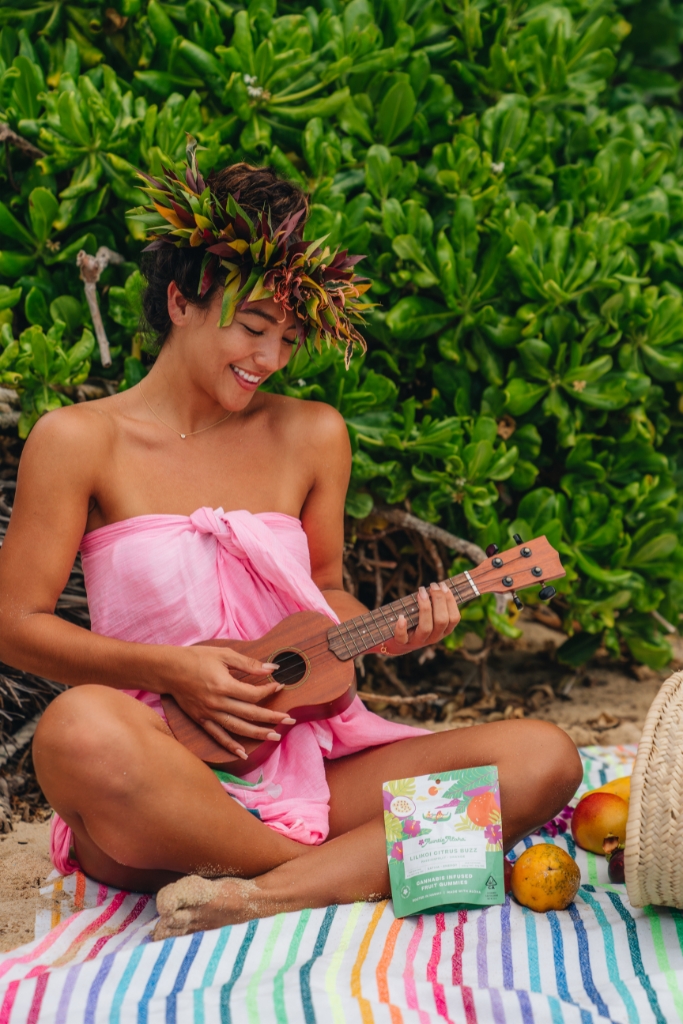 Ho'okipa i ka home. We are proud to welcome back home to Hawai'i and to the AGApoth 'Ohana, Auntie Aloha!
Auntie Aloha was founded by two exceptional wahine from O'ahu, with the passion to create THC gummies that incorporated the local flavors they grew up with. We first met these two kama'aina as many local people do when we see anyone who looks like they are from Hawai'i in unfamiliar places. It might've been the Aloha shirts that gave us away, but we instantly knew, "eh you from Hawai'i?"
We met randomly at a conference on the continent, but the connection between our two brands was instant and we knew that we wanted to find ways to support each other. Pat & Marisa – company founders, created Auntie Aloha with the mission to deliver a dose of aloha into peoples' lives – creating waves of wellness and positivity along the way. They spent the past few years perfecting their vegan line impressively representing the 808 state by introducing nostalgic local flavors and elevating the customer experience by spreading good Aloha vibes around California.
After years of hard work, we are finally ready to welcome Auntie Aloha back to our beautiful island home. The collab between Auntie Aloha and Aloha Green mixes their local style recipes and flavors with pakalolo grown at Aloha Green, right here under the natural Hawaiian sun and elements. Not only is Auntie Aloha inspired by home, but now it is made in Hawai'i! This a full circle moment as the founders have always wished to bring their passion-filled business back home. We have always wanted to support our kama'āina who love Hawai'i as much as we do and deserve to showcase their work as our cannabis community expands.
Both founders of Auntie Aloha positively remember their introduction to their pakalolo journey on these very islands. Cannabis has been used for medicinal purposes for generations in Hawai'i. It is often that a positive happy feeling arises when people reminisce their experiences with cannabis in Hawai'i. Both wahine have warm memories of cannabis, connecting friends and multigenerational families in a positive healthy setting.  It is because of these pro-cannabis experiences that they began their journey of learning of its many health benefits which led them to want to help others better their lives through this magnificent plant.
Auntie Aloha is not just your normal fruit gummy. Their cannabis gummies are vegan and gluten-free, that come unique tropical flavors and colorful swirls with a bouncy texture. Each pack comes with 10 gummies, at approximately 5mg of THC per piece. These gummies are a special addition to our menu as they will be our only vegan gummy, opening way to those that couldn't previously indulge!
Aloha Green will be carrying three onolicious flavors including: Hawaiian Guava Haze, OG Lava Flow, and Lilikoi Citrus Buzz.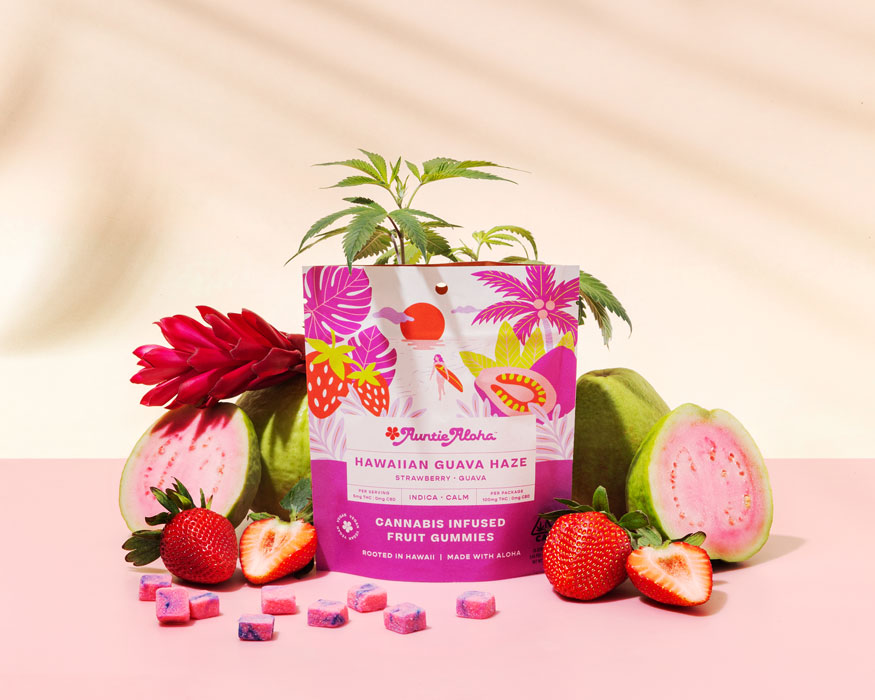 Hawaiian Guava Haze's sweet strawberry guava flavor can help to create peace and calm. Almost as epic as watching a Waikiki sunset from your longboard, end the day and chill out with a sweet swirl of pink guava and strawberries. This medley of flavors will make you as happy as doing a hang ten.
OG Lava Flow can help to create balance in your life, with it's mix of coconut, pineapple, and strawberry. Inspired by both the beauty and power of the Big Island's volcanoes, get ready for an eruption of flavors for your tastebuds. Our mix of coconut, pineapple, and strawberry flavors are bold—but the effect is pure paradise bliss!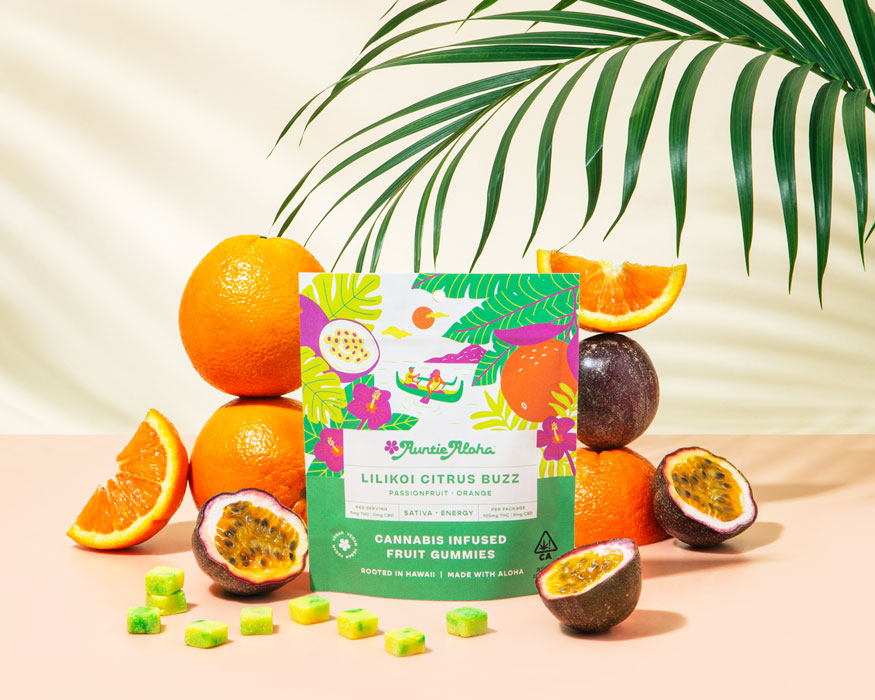 A current Hawai'i exclusive – Lilikoi Citrus Buzz will energize to your day as it's lilikoi/orange flavors awaken your senses! There's nothing better than a sunny day at Lanikai Beach to uplift your body and soul. But if you can't make it to Kailua today, enjoy a dose of Aloha vibes with a swirl of lilikoi and orange to awaken your senses.
Beyond their passion for providing top quality Hawai'i inspired cannabis edibles to their community, much like Aloha Green, Auntie Aloha has a passion for giving back to the islands that have provided for them. Some of the Hawai'i-based conservation and organizations that Auntie Aloha continues to donate annually to are Sustainable Coastlines Hawaii and Hawai'i Land Trust, to help preserve the natural beauty, community, and culture.
Sustainable Coastlines Hawaii motivates local communities to take care in safeguarding Hawaii's coastlines. Throughout the last decade they have successfully eliminated 600,000 pounds of debris from Hawaii's shores, brought together 35,000 dedicated volunteers, educated 43,000 students, involved policymakers and influential individuals, and touched millions of households with impactful social media campaigns.
Hawai'i Land Trust (HILT) safeguards and nurtures the essential lands that sustain Hawai'i, while also upholding and promoting Hawaiian principles by fostering a deep connection between individuals and the land. HILT strongly believes in our shared fate with the land, recognizing the vitality of ourselves and future generations hinges upon the well-being of the land. Embracing our responsibility (kuleana) for the future, HILT ensures the ongoing preservation of over 21,000 acres of Hawaii's invaluable natural and cultural assets, as well as the promise of further conservation efforts.
We could not be more excited to carry such an amazing product, created by an awesome local wahine team. Welcome home Auntie Aloha! Come get your dose of Aloha at Aloha Green Apothecary today!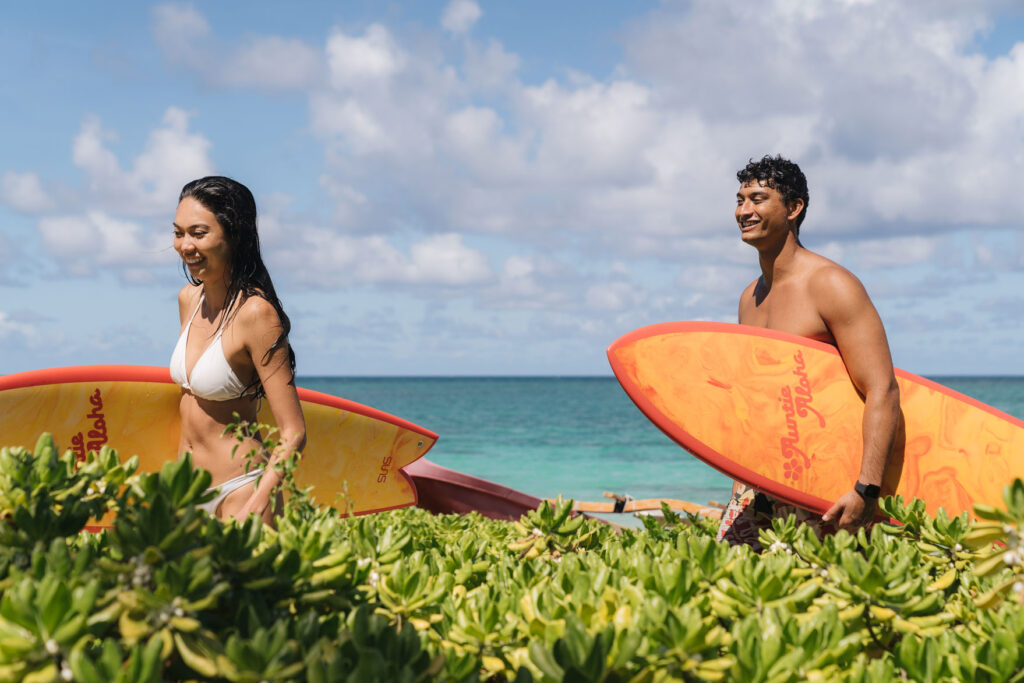 Learn more about Auntie Aloha on their website at https://www.auntiealoha.com/about
Auntie Aloha gummies are now available at all dispensaries starting today!  Click the preorder tab to check out our dispensary menu!