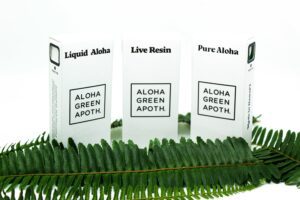 The cannabis industry is quickly growing every day. Cannabis is being legalized in new states every year, as well as decriminalized in many states across America. While this is both great and exciting for consumers as well as people trying to get involved with the industry, it does have an impact on the planet if we let it.    
With this rise in the production and distribution of cannabis, comes an increase in plastic usage. The majority of cannabis dispensaries use plastic bottles, containers, bags, etc. to package their products.    
When selling cannabis, following compliance is important. A big part of compliance is having childproof packaging, and the majority of childproof packaging is sadly made from plastic. It has taken a long time for companies in cannabis to find alternative solutions to plastic containers and packaging. You also have to consider that most sustainable packaging is typically much more expensive than plastic, which is why few companies make that switch.    
In Hawaii, we try to limit our use of plastics as much as possible. Just go to a grocery store and you will find that they typically require you to bring your bags. Being surrounded by the ocean, we must make sure we are doing our part to persevere and respect this amazing land and ocean we live on.    
Sunshine Enclosures, based in LA, has helped Aloha Green begin our transition to being significantly less wasteful. Their packaging uses soy-based inks and dyes, they are recyclable. Best, and best of all, they follow compliance and are fully child-proof. Their factory network undergoes regular audits for social and environmental compliance, and they commit to rigorous, ethical, environmental, and operational practices that allow us to maintain sustainability in our industry.    
When you shop with Aloha Green, you'll notice their packaging is used for a variety of our products. We have not 100% moved to be fully sustainable, but we are on our way! Aside from our packaging, our growers on the farm managed to cut down on plastic waste by eliminating plastic pots completely, so now all of the plants on our farm can grow free from the use of plastic!    
There is still so much work to be done in cannabis when it comes to the excessive use of plastics. Here at Aloha Green, we are always searching for new ways to be a more sustainable company and our hope for the future is to eventually be able to call ourselves 100% sustainable. Being the first Cannabis dispensary on Oahu, we want to be a leading company in moving towards sustainability in hopes that other companies will follow. We have had the amazing opportunity to bring safe, legal medical cannabis to our community, the best thing we can do is make sure we are taking care of the land we get to grow the plant on, too.