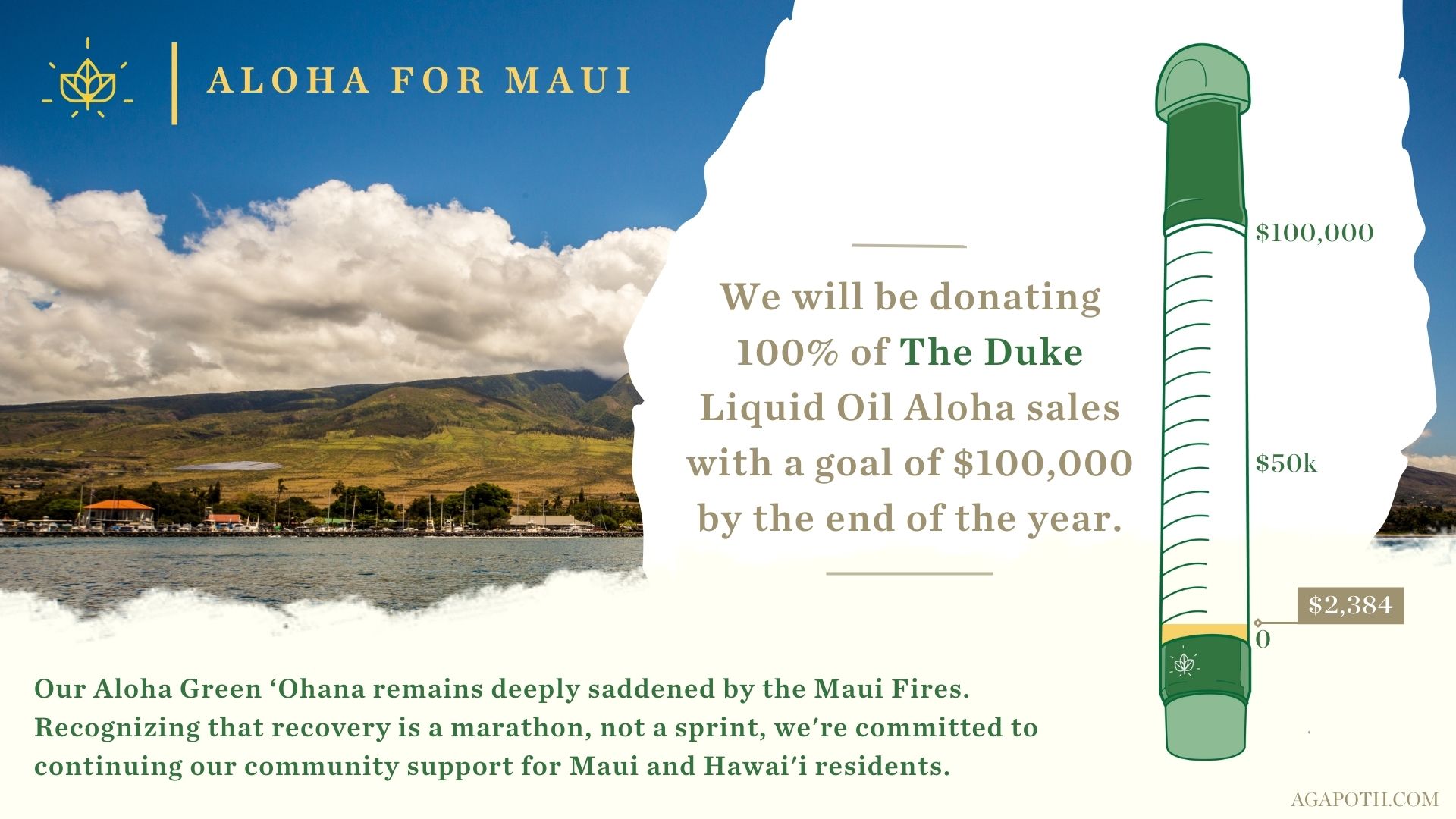 As we continue to witness Maui Kama'aina bravely recover and rebuild after the devastating Maui fires, it's evident that our neighbors require all the kokua available. During these trying times we lean on our Hawaii community to unite closer and provide unwavering support to our community members, helping them navigate through this devastating crisis.  Amidst these heart-wrenching circumstances, we are deeply humbled to have the chance to support Maui in taking manini but strong steps towards recovery.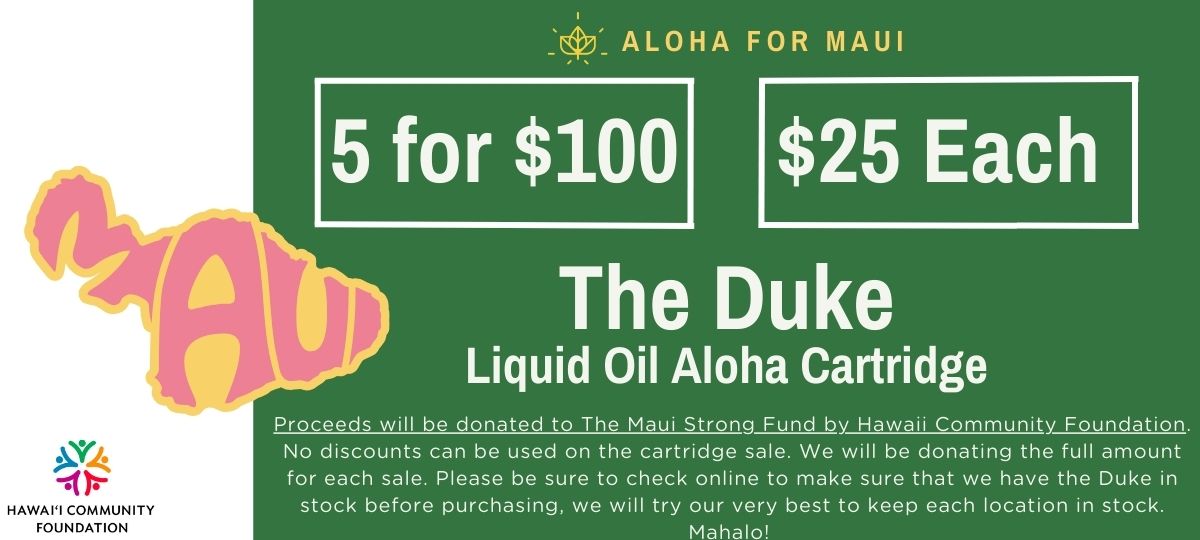 How to Help
Starting September 1st until the end of this year, we'll be offering The Duke Liquid Oil Aloha Cartridges at $25 each or 5 for $100, with 100% of the proceeds from these sales going to the Maui Strong Fund. Our aim is to reach a donation total of $100,000 by the close of 2023. We'll keep you posted on our progress, and it's all thanks to your support
Where will the donations go?
The Maui Strong Fund was created by the Hawaii Community Foundation, who has been serving the Islands of Hawai'i for over 100 years. The Maui Strong Fund has committed financial assistance to aid both the immediate and enduring recovery requirements of individuals and locations impacted by the destructive Maui wildfires. In close partnership with state and county officials, non-profit entities, and members of the community, HCF is actively engaging to comprehend the rapidly shifting focal points and priorities. Learn more about the HCF's Maui Strong Fund and their 4 phase plan here.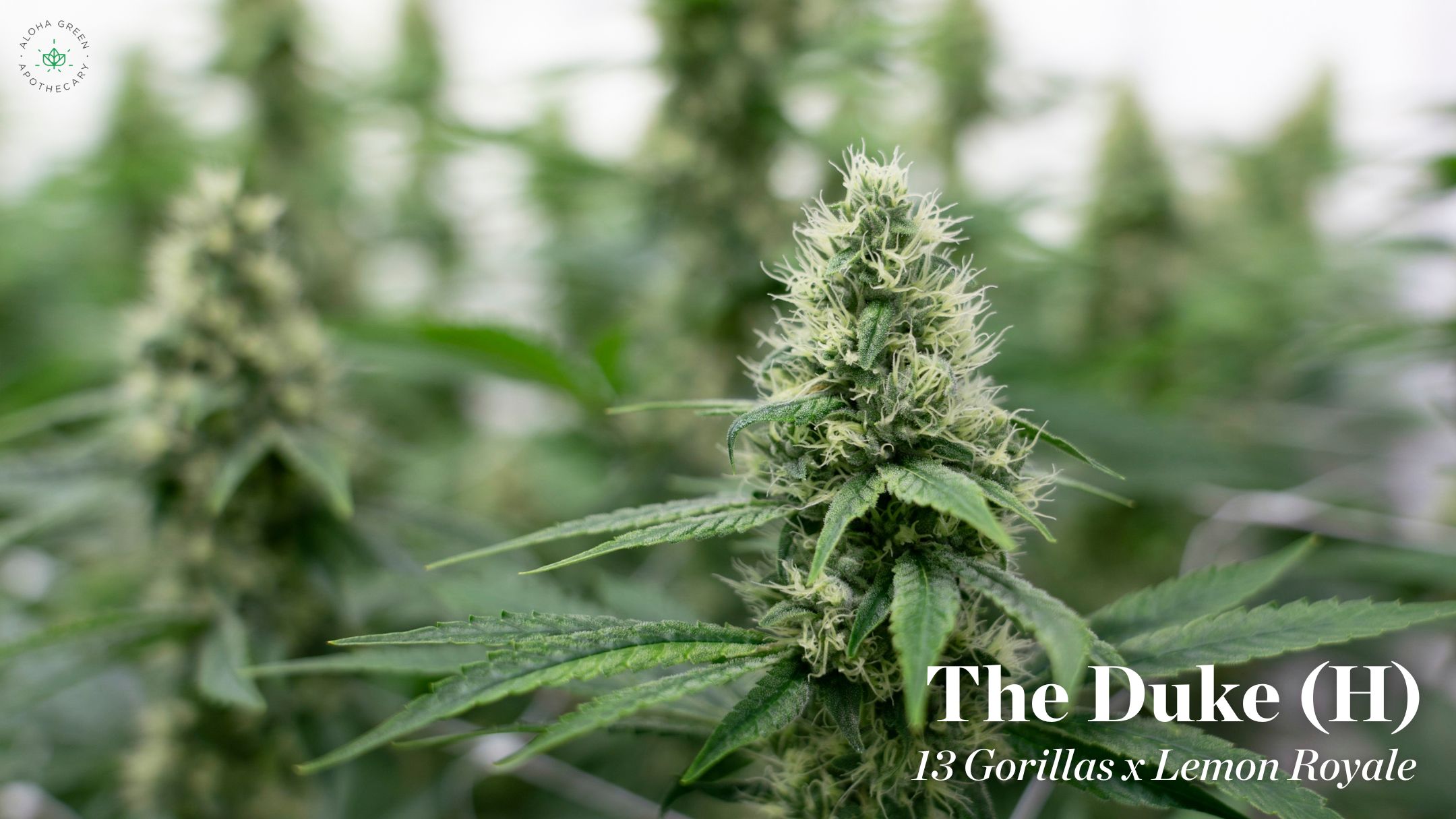 About The Duke
The Duke is a name for monarchs, Olympians, and top shelf cannabis! This powerful hybrid, born from Lemon Royal and 13 Gorillas, reigns supreme among hybrids. Patients can experience a rejuvenating body high that sparks energy and inspiration. With citrus, peppery, and earthy notes, its aroma reveals a blend of 11 terpenes. Bred on Molokai by the infamous Pakalolo Seeds. These breeders are known for their outdoor breeding program in Hawaiian soil- a testament to local cultivators making good use of the ʻāina. This local kine phenotype thrives in Hawaii's unique conditions, boasting dense flowers crowned with regal lavender tips.

What are Liquid Oil Aloha Carts?
Liquid Oil Aloha Cartridges begin with our in-house craft cannabis grown under the Hawaiian sun. Extracted with CO2 (a naturally occurring, non-toxic solvent), beneficial cannabinoids and terpenes are separated and removed from plant material leaving behind a concentrated cannabis oil. This oil is then stored in a child resistant glass cartridge with a ceramic heating element ceramic mouthpiece.  Liquid Aloha Carts can be medicated with any 510 battery.
Any Rules?
Kindly be note that, as we are donating the entire sale of The Duke Cartridge's liquid, stacking of discounts will not be permitted. We are dedicated to ensuring ample stock will remain at all locations, however we recommend checking our online inventory at agapoth.com to make sure the Duke is in stock before coming in!
Our hearts truly go out to all those effected by the Maui fires. We thank you for your help in hopefully making a positive difference to our Maui neighbors.